Clinical Programs
At Surface Ophthalmics, we are currently advancing three clinical programs in the eye care space: SURF-100 for the treatment of chronic dry eye disease; SURF-200 for the treatment of acute dry eye; and, SURF-201 for the treatment of post-operative pain and inflammation following ocular surgery.
As a pre-commercial organization, we're extremely proud to be simultaneously advancing three unique and impactful clinical programs which have the potential to make a difference for patients who are suffering from dry eye disease or ocular pain and inflammation.
Although our clinical programs are all unique, we've built them on a similar foundation, not only in terms of our dedication to using innovative science to improve patient outcomes, but also in terms of some common fundamental elements, or building blocks, which we believe will provide the basis for the important new treatment options for patients.
Utilizing our Building Blocks
Throughout our clinical programs, we leverage several fundamental elements or building blocks that serve as the foundation for our therapies. These elements are those that truly differentiate our therapies from those currently on the marker and the elements that we believe will improve patient outcomes and experience.
Patented Vehicle to Advance Patient Comfort
A patented delivery vehicle is used across Surface Ophthalmic's three current clinical programs. Developed by Richard L. Lindstrom, MD, inventor of Optisol GS (an advanced corneal preservation solution), the vehicle is designed to protect and rehabilitate the ocular surface for patients with moderate-to-severe dry eye disease.
One of the major complaints of patients currently receiving treatment for dry eye disease is the discomfort associated with the treatments (burning, itching, etc.). The vehicle was chosen specifically to address patient comfort in addition to overall protection of the ocular surface during the administration of other active ingredients.
Betamethasone: Bringing a Strong Global Track Record to the United States
Betamethasone is a potent corticosteroid which works to reduce swelling, redness and irritation. Although it has been commonly used as the preferred topical steroid since 1961 in many countries, Surface is the first to bring this to the eye care space in the United States. Betamethasone has a demonstrated a strong potency with a very low incidence of secondary pressure elevation. We believe that the established record of safety, effectiveness and tolerability for betamethasone makes it a strong option for the treatment of ocular pain and inflammation.
Mycophenolate Sodium: Making a Dream Team with Betamethasone
Mycophenolate sodium is an immunosuppressant agent which works synergistically with corticosteroids and acts as steroid sparing agent. In addition, there is scientific evidence supporting another important property of the mycophenolate for the dry eye disease, namely, increasing mucin production on the surface of the eye which is an important component to maintain a healthy tear film.
Not a Fundamental Element: Preservatives
In addition to our fundamental elements, there is one very important additive that we do NOT include in our therapies: preservatives. Literature and research have long told us that preservatives can be irritating, particularly to the ocular surface. Our therapies are all preservative-free to protect the eye long term and ensure patient comfort.
Those three fundamental elements or building blocks are consistent across our therapies, Find out more about our individual clinical programs below.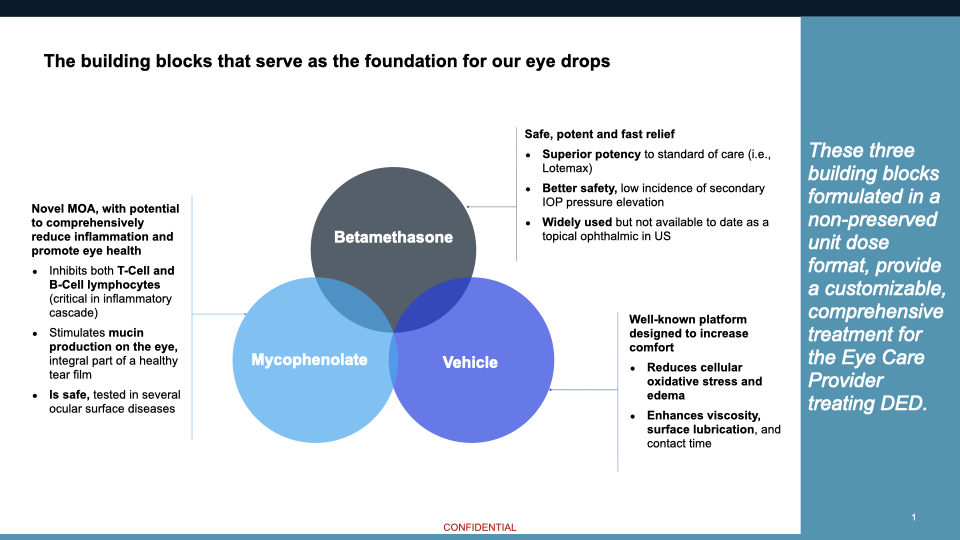 SURF-100 For the Treatment of Chronic Dry Eye Disease
Being studied for the treatment of chronic dry eye disease, SURF-100 combines Klarity and betamethasone with mycophenolate sodium.
When you hear the term "dry eye disease", usually it's referring to chronic dry eye disease, which is defined by the Tear Film & Ocular Surface Society in their DEWS (Dry Eye Workshop) II Report as "Dry eye is a multifactorial disease of the ocular surface characterized by a loss of homeostasis of the tear film, and accompanied by ocular symptoms, in which tear film instability and hyperosmolarity, ocular surface inflammation and damage, and neurosensory abnormalities play etiological roles."
Symptoms of chronic dry eye disease can include redness, stinging/scratching/burning sensations, sensitivity to light, watery eyes, and blurry vision, which can impact an individual's overall quality of life.
For more information on Chronic Dry Eye disease, check out the DEWS II Report here.
SURF-200 for the Treatment of Acute Dry Eye
SURF-200 is being studied for the treatment of acute dry eye and combines a low dose of betamethasone with the Klarity vehicle. With a short dosing cycle of only a few days, SURF-200 is uniquely set-up to address acute flares of dry eye disease when compared to the chronic condition.
Acute dry eye is lesser known than chronic dry eye but every dry eye patient experiences acute dry eye several times throughout the year.
Acute dry eye is caused by environmental or visual tasks that involve reduced blinking, lead to overwhelmed tear production and therefore symptomatic dry eye. On the other hand, while chronic dry eye can be aggravated by the same environment, the condition persists longer term and can lead to potential damage to the ocular surface.
Acute dry eye is an under-recognized condition. And with treatments in development for both acute and chronic dry eye disease, we are the only company with therapies in development to potentially treat the full spectrum of dry eye disease – offering complete solutions for patients.
SURF-201 Addresses Post-Operative Pain and Inflammation Following Ocular Surgery
Working to address the pain and inflammation that follows ocular surgery, SURF-201 contains a higher concentration of betamethasone in the Klarity vehicle to provide quick and potent action following surgery.
This program is the furthest along, and, if approved, will be the first and only unit dose, preservative-free ophthalmic corticosteroid, Betamethasone, to the U.S. market for the 5 million+ ocular surgeries that occur every year in the United States.